The Chippewa Valley's FIRST Auto Body Facility to use environmentally friendly finishes!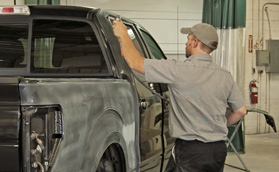 Superior Auto Body is proud to use water-based paint solvents in an effort to protect our environment. Our passion for being environmentally friendly for our employees and neighbors will be ever growing as we find new technologies in the auto body industry.
We are proud to become the first environmentally friendly auto body repair facility in Western Wisconsin to use waterborne technology in the refinish process of auto body repair.
---
More about Waterborne Technology
Waterborne technology was first adopted in Europe and has been used for the past 20+ years due to legislation enacted as early as 1998. Waterborne technology is also currently used in Canada and California due to strict VOC requirements and the rest of the United States is sure to follow.
Waterborne technology allows faster drying times, reducing cycle time and increasing production, which means getting a customer's vehicle back to them in pre-accident condition faster and still maintaining an excellent quality repair.
---
How does Superior Auto Body and Waterborne Aquabase Technology Preserve Our Future?
Waterborne technologies reduce volatile emissions by up to 80%
Improves air quality for the work environment and the community
Reduces hazardous waste
Aligns closely with original manufacturer waterborne paint technology for superb color match
Lifetime Limited Warranty for as long as you own your vehicle
---
Do you share our passion for the Environment?
If you'd like more information about Superior Auto Body going green or to schedule an interview with Dave Savage, please call Dave at 715-834-7707 or Contact Us today!
Recognized for Going Green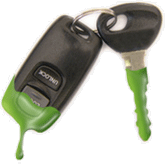 Superior Auto Body was recognized as a Green Business by the Eau Claire Chamber of Commerce.